JURA SWISS ESPRESSO DRINK SYSTEMS – WORLD LEADER IN INOVATION AND COFFEE SYSTEMS TECHNOLOGY
JURA  was founded in 1931 by Leo Henzirohs in the Swiss town of Niederbuchsiten (Canton Solothurn). Niederbuchsiten, still the company headquarters today, located at the southern end of the Jura mountains, it is these mountains that have given the company its name.
The Bean-to-Cup Experience
JURA Swiss Automatic Coffee Systems produce the finest espresso, cappuccino and latte, cup by cup. Fast and easy to operate, they can grind, tamp, brew and self-clean in less than 60 seconds.  Frothing options make it easy to froth or steam milk to perfection. JURA Automatic Coffee Systems provide more choices in coffee volume and coffee strength than any models. Grinding just before brewing assures the highest yield of flavor and aroma.  Coffee as you like it…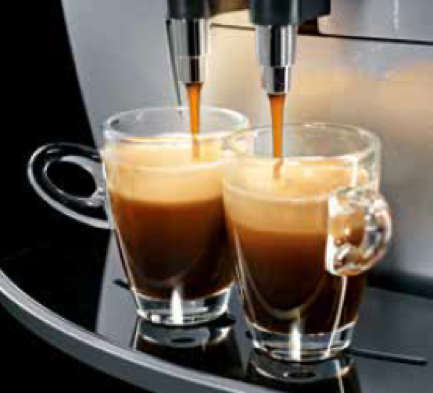 The AromaG3 grinder
The coffee beans are freshly ground each time to guarantee maximum flavor. You can adjust the grinder setting to select the fineness of the coffee powder you want. This affects the flow-through time of the water, the so-called extraction time. The finer the powder, the more intensive the flavor The cutting angles in the grinding cones of the AromaG3 grinder have been perfected. The JURA engineers have managed to increase efficiency significantly. As a result, the perfect aroma can now be achieved in all its natural fullness in half the grinding time.
The CLEARYL plus filter cartridge
Coffee contains 98% water. This means that fresh cold water is essential to achieving perfect coffee results. Heating the water causes calcium to be deposited. Unless the water is filtered this will result in calcification of the machine. JURA offers an intelligent solution: the CLEARYL plus filter cartridge.
This protects the machine against calcium deposits and extends its lifetime.
The machine does not need to be descaled.
And you are guaranteed consistently high water quality and therefore coffee quality.
JURA SWISS Intelligent Pre Brew
Aroma System (I.P.B.A.S.©) and Pulse Extraction Process (P.E.P.®)
I.P.B.A.S. is a pre-brew process that develops the maximum flavor from any blend or roast of coffee. The brewing unit is the central component of a fully automatic coffee machine. The JURA variable brewing unit holds between 5 grams and 16 grams of coffee powder. This allows you to adapt the coffee strength to suit your personal taste. The Pulse Extraction Process obtains the maximum aroma even with very small specialty coffees such as an espresso or ristretto. The water is pressed through the ground coffee in short bursts, optimizing the extraction.
ADDRESS
28045 Ranney Parkway, Unit N
Westlake, Ohio 44145
CALL US
Phone: 440-808-0060
Toll Free: 800-671-3001