JURA IMPRESSA X9 ESPRESSO MACHINE – FULLY AUTOMATIC
The Jura X9 gives you the perfect Espresso, Cappuccino and Latte's all at the PUSH-OF-A-BUTTON and without moving the cup, using FRESH MILK & WHOLE BEANS! The X9 has 8 programmable drink selection buttons, two high performance grinders, two separate spouts for steam and hot water, self contained water tank and drip tray, easy to read display and an AUTOMATIC CLEANING and MAINTENANCE PROGRAM.
Dimensions: 23″H x 16″W x 20″D, 120v, 20amp.
Call for current pricing 1-800-671-3001
Only 4 drinks per day pays for this system
Lease Programs Available 
JURA GIGA 7 PROFESSIONAL/COMMERCIAL ESPRESSO SYSTEM
The Giga 7 Professional/Commercial espresso system defines excellence in this range of bean to cup machines. TWO espresso based beverages, (cappuccino's, latte's, macchiato's and espresso's) dispensed at one time. The 3.5 inch front color display shows 20 different drink combinations; selections are fast and easy via a rotary dial switch. The high speed ceramic disc grinders deliver consistent, freshly ground coffee.
Dimensions: 14.6″ W x 22.2″ H x 19.6″ D – 120 Volt, 20 AMP
Call for current pricing 1-800-671-3001
JURA GIGA W3 PROFESSIONAL ESPRESSO SYSTEM
The GIGA W3 Professional introduces state-of-the-art coffee technology to the workplace. Elegant and professional, the automatic coffee machine provides everything that counts in a modern working environment for customers, visitors and employees. As well as superlative performance, it offers convenience, simple and intuitive operation, and easy refilling thanks to the large 5 liter water tank, 1 kg bean container and aroma preservation cover.
Dimensions: 14.6″ W x 21.6″ H x 19.6″ D – 220 Volt, 10 AMP
Call for current pricing 1-800-671-3001
JURA WE8 – CROSSOVER PROFESSIONAL ESPRESSO SYSTEM
The Jura WE8 is a light-duty "Crossover Professional" espresso machine that is simple enough for anyone to operate. Designed for use in upscale retail shops, beauty salons, galleries and small offices. The high-end design conveys a feeling of sophistication and luxury.
Dimensions: 11.6″ W x 16.5″ H x 17.5″ D
Call for current pricing 1-800-671-3001
THE JURA XJ9
The XJ9 is the perfect One Touch solution for espresso based drinks from whole beans and fresh milk. The compact unit offers high style good looks, and a server friendly 3.5 inch color display makes drink selection easy and fast. The single grinder is an economical alternative to pods or capsules, providing freshly ground coffee for excellent quality drinks.
Dimensions: 13.4″ W x 19.7″ H x 17.3″ D – 120 Volt, 20 AMP
Call for current pricing 1-800-671-3001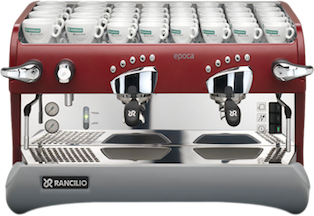 RANCILIO EPOCA ESPRESSO MACHINE
Only 4 drinks per day pays for this system
Call for current pricing 1-800-671-3001

Lease Programs Available  
YOUR ABM SPECIALIST CAN ASSIST YOU WITH 1,2,3 GROUP OPTIONS AS WELL AS COFFEE GRINDER/DOSERS
RANCILIO EGRO ONE ESPRESSO MACHINE
Only 5 drinks per day pays for this system
Call for current pricing 1-800-671-3001

Lease Programs Available
ADDRESS
28045 Ranney Parkway, Unit N
Westlake, Ohio 44145
EMAIL US
123-456-7890
info@yoursite.com
CALL US
123-456-7890
info@yoursite.com